As Santa Maria Community Services, Inc. enters our 126th year of helping families help themselves, we are pleased to announce the appointment of new board members, Kaitlyn Carrender, Rasheda Cromwell, Dr. Sisan Cuervo and Hammad Siddiqi.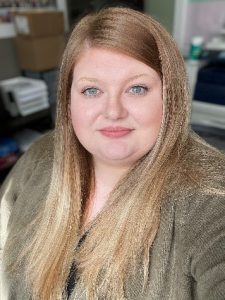 Kaitlyn Carrender: Kaitlyn is a Senior Office Support Specialist at Great American Insurance Group. She is a former client of Santa Maria's Comprehensive Case Management and Employment Program and previously worked for four years at Santa Maria's Literacy Center West location as the Office Coordinator and then moved to the Administration Building in Sedamsville to serve as an Accounts Payable Assistant. Kaitlyn grew up in Somerset, Kentucky and moved to the West Side of Cincinnati when she was ten years old and has lived in the area ever since. Kaitlyn enjoys spending time with family and friends, traveling, and petting any dog she can. She currently resides in Dent with her boyfriend. She said, "Being on the receiving end of Santa Maria's services, I know how important they are to the community. They are truly a staple in the area and I'm excited to be able to continue to serve the community in this new capacity."
Rasheda Cromwell:  Rasheda is the Vice President of Community Strategies for Greater Cincinnati Foundation. She is an experienced executive in nonprofit management, community relations, fundraising and advocacy.  She began her career with the Department of Health & Human Services in 2004, reading, analyzing, and critiquing grant proposals from nonprofit organizations for federal approval. Falling in love with the organizations she studied, she pursued a career in the not-for-profit sector. Rasheda received her bachelor's degree from Miami University and is a member of the Association of Fundraising Professionals and Urban League of Greater Southwestern Ohio. It was in her previous role with the Boys & Girls Clubs of Greater Cincinnati that Rasheda became involved with Santa Maria Community Services. "I am excited to serve an organization that is doing such important work with families from their education to financial, and health goals," she said. Rasheda lives with her husband, Joey, and their three children, Jaylon, Chloe, and Jayce.
Dr. Sisan Cuervo: Sisan is an assistant professor and certified bilingual speech-language pathologist. She received her initial clinical training in speech-language pathology from Florida International University, after which she practiced at a pediatric private clinic, various school settings and as an early intervention provider for children with developmental delays. After moving to Cincinnati, she completed a Ph.D. at the University of Cincinnati. As a Hispanic immigrant and first-generation scholar, Dr. Sisan serves as a community liaison and advocate to support underrepresented communities, she has supported several early literacy and parent training programs at Santa Maria in the past several years. Dr. Sisan said, "The mission of Santa Maria is very close to my heart. I look forward to bringing my personal and professional experiences to the board in order to support the ongoing efforts of this amazing organization." Sisan lives in the Westside with her family and enjoys cooking, hiking and dancing.
Hammad Siddiqi: Hammad grew up in Pakistan and Saudi Arabia and came to the United States as an international student at the University of Cincinnati in 1999. He was fortunate enough to travel the world extensively in his formative years, due to his father's career as a diplomat. This experience gave him a perspective of the unique differences and opportunities each of us have. Hammad has been employed with PNC for the last 17 years between various departments including Retail, Business Banking and Asset Management. He currently serves as the Vice President of Community Development Banking, working on PNC's Community Reinvestment Act (CRA) commitments and responsibilities. Hammad lives in Mason with his wife, Samreen, and their 3 children as well as a 2-year-old Labrador Retriever named Oliver Cromwell. Hammad is a history buff and enjoys outdoor activities like kayaking and hiking. He is extremely passionate about teaching Financial Education given his own experiences as a new arrival to the United States and enjoys working closely with a number of organizations throughout Cincinnati & Dayton.
Chair of Santa Maria's Board of Directors, Guillermo Villa, said, "We are excited to welcome our new board members, Kaitlyn, Hammad, Sisan, and Rasheda to Santa Maria Community Service. These individuals bring a wealth of diverse experience that will prove to be critical as we continue to fulfill the mission of helping Greater Price Hill families attain their educational, financial, and health goals."  Santa Maria would also like to thank Geri Hernandez (6 years), Paul Friedmann (9 years), Natalie Moore (3 years), and Thomas MacDonald (1 year), for their service on our Board of Directors which came to an end in 2022.
# # #
CONTACT:                                                                   FOR IMMEDIATE RELEASE
Christy Cauley                                                             January 10, 2023
Santa Maria Community Services, Inc.
Christy.Cauley@SantaMaria-Cincy.org
About Santa Maria Community Services, Inc.
Santa Maria Community Services, Inc. is an independent, 501(c)3 nonprofit organization originally founded by the Sisters of Charity in 1897 and place-based in Cincinnati Ohio's Price Hill community. Santa Maria provides more than 2,500 individuals with educational tools and resources to build strong families, promote healthy residents, and foster neighborhood revitalization. Our Price Hill Family Centers provide a welcoming environment and the coaching, support, and flexibility to assist families to achieve their identified goals toward stabilization and self-sufficiency. Our mission is to be a catalyst and advocate for Greater Price Hill families to attain their educational, financial, and health goals. Our vision is for Greater Price Hill to be a vibrant, thriving, and self-sustaining community. Learn more at SantaMaria-Cincy.org.