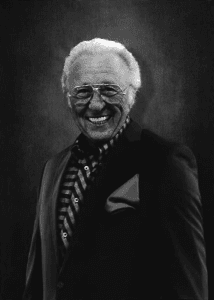 Donald Sebastiano "Buddy" LaRosa was born on August 25, 1930 to Mary (nee Panaro) and Anthony T. LaRosa in the South Fairmount neighborhood of Cincinnati. The Panaro family were members of San Antonio Church (also called San Antonio Italian Chapel), located at 1950 Queen City Avenue. Sister Blandina Segale, SC, Servant of God*, helped co-found San Antonio Church in 1922, along with S. Euphrasia Hartman and S. Blandina's biological sister, S. Justina Segale.
Buddy's maternal grandmother, Josephine Panaro (nee Palmieri), was a long-time member of San Antonio Church. That's where she and S. Blandina met. Josephine admired S. Blandina's work with Italian immigrants in Cincinnati, which included co-founding Santa Maria Community Services in 1897 – known then as the Santa Maria Italian Educational and Industrial Home. The two became fast friends.
Recently, Suzie Murdock Cavanaugh, a friend of the LaRosa family, had a chance to call Buddy LaRosa and talk with him about his grandmother's friend. He remembered S. Blandina with a great deal of fondness and admiration.
When Mr. LaRosa was 11 years old, he, his Aunt Dena Minella (nee Panaro), and his grandmother would pack up some homemade sweet treats, like cookies and cake, and catch a ride on the Cincinnati streetcar to the Sisters of Charity of Cincinnati Motherhouse in Mt. St. Joseph, Ohio, near Delhi Township. After spending over 36 years at Santa Maria, S. Blandina had retired to the Motherhouse in 1933 at the age of 83.
When the family arrived, as was customary, Mr. LaRosa would, "kiss Sister Blandina's hand" upon greeting her and she, in return, would pat his head and say a blessing. Because of S. Blandina's mission to serve Italian immigrants in Cincinnati, the Panaro family felt great devotion for her. Mr. LaRosa stated, "Whenever anyone was in need, Sister Blandina would always come through with whatever was needed, such as getting to a doctor, seeing a mid-wife, or money for goods or services." The family even had S. Blandina's photograph hanging in their home.
Mr. LaRosa's mother and grandmother got involved with the Mother's Club at Santa Maria, and, along with many other mothers from San Antonio Church, they organized the annual "Big Spaghetti Dinner." Many years later, Mr. LaRosa would marry his beloved wife, Jo Ann "Jo Jo" Augustine at that same church in 1952. They would remain married for 59 years until her death in 2011. Mr. LaRosa's parish remained near and dear to his heart, as did S. Blandina whom he credits with saving it.
Several years ago, the Religious Council from San Antonio Church was uncertain of the Church's future. He said, "parishioners prayed to S. Blandina to keep the doors open." Mr. LaRosa believes their prayers were answered. "The miracle is San Antonio Church remains open," he said.
S. Blandina died at the Motherhouse shortly after Mr. LaRosa's last visit, on February 23, 1941 at the age of 91.
Santa Maria would like to thank Buddy LaRosa and Suzie Cavanaugh for sharing these memories of our co-founder, S. Blandina Segale during our 125th anniversary celebration! We would also like to thank Mr. LaRosa for his service to his country (1949-1953) and his community.
Additional Sources:
Cincinnati and Hamilton County Public Library's Veterans History Project: https://digital.cincinnatilibrary.org/digital/collection/p16998coll27/id/2461/
San Antonio Church Bulletin: https://www.sanantoniocincinnati.org/category/news/100years/page/3/
San Antonio Church Bulletin: https://www.sanantoniocincinnati.org/news-from-san-antonio-church-dec-12-2021/
*The cause for Sister Blandina Segale's canonization as a saint in the Roman Catholic Church was approved by the Vatican in 2014. Based on documents submitted, Sister Blandina is now to be called by the title, "Servant of God." "Servant of God" is the first part of a four-step process. Step two is "Venerable," step three is "Blessed," and step four is "Saint."