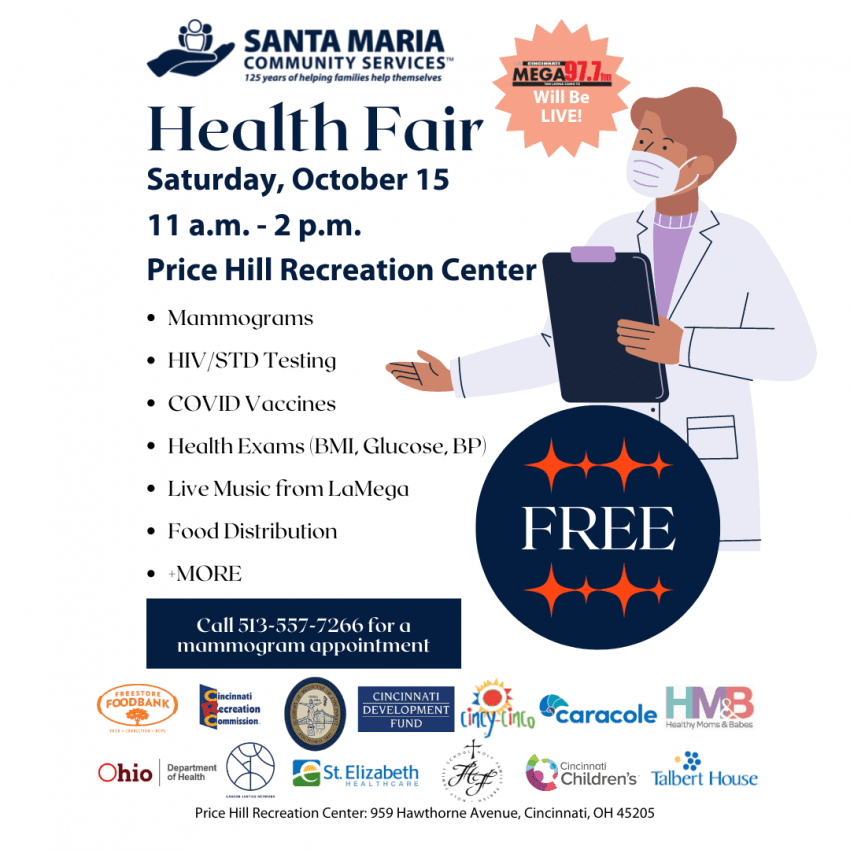 Santa Maria Community Services, Inc. is pleased to announce its fall health fair. The free health fair will take place on Saturday, October 15, 2022, from 11 a.m. to 2 p.m. at the Price Hill Recreation Center located at 959 Hawthorne Avenue, Cincinnati, OH 45205. Bilingual volunteers will be on hand to provide free translation services for Spanish speaking participants.
This fall's health fair will include free COVID-19 vaccines from the Ohio Department of Health. Caracole will administer HIV and STD tests. The St. Elizabeth mammogram van will be offering free mammograms by appointment (Call 513-557-7266 to register in English or Spanish). There will be free health screenings, including blood pressure, plus glucose testing and Body Mass Index (BMI) calculations. Talbert House will be on hand with mental health and substance abuse prevention resources. The health fair will also include free food distribution, thanks to a partnership with the Freestore Foodbank, and a free hot meal to enjoy at the event.
"We are fortunate to have a lot of great organizations in the Price Hill area that help residents to live a healthy life," said H.A. Musser, Jr., Santa Maria President and CEO. "This is a great opportunity for families to explore the free resources Santa Maria and partnering agencies have to offer. We are excited about giving individuals and families tools to take good care of themselves."
There will be free parking at the Price Hill Recreation Center, plus additional parking will be available at Holy Family Church, located at 3006 W 8th Street. The Cancer Justice Network will be offering a free shuttle service for participants from Holy Family to the event. La Mega 97.7 will also be broadcasting live from the event.
You may download a flyer here.